Who you hire to create and represent makes all the difference.
Abstract
 This case study examines U.S.-based multinational food and beverage company PepsiCo's protest-themed commercial for its carbonated soft drink Pepsi® and the consequent decline in millennial purchase consideration and brand perception. Pepsi®'s campaign – titled "Live for Now – Moments" – was launched on April 4, 2017, in the ambitious attempt to showcase Pepsi® as a millennial-friendly brand with a socially relevant and unifying message. The ad showed 21-year-old supermodel Kendall Jenner partaking in a photo shoot and then "jumping in" with protestors marching along the road. In the end, Jenner approaches a cop with a can of Pepsi® soda. Due to crushing condemnation from critics and social media users claiming that the ad was co-opting protest movements – such as Black Lives Matter – for commercial gain, Pepsi® had to pull the advertisement off the air and off the internet less than 48 hours after the initial release. This case analyzes several gaps in Pepsi®'s marketing efforts over the course of the creation of the spot and throughout the aftermath. It explains how the company failed to research and communicate while attempting to promote the brand. The case explores the steps taken by Pepsi® before and after the major PR crisis that may or may not have damaged the globally-recognized brand forever.
Introduction
U.S.-based multinational food and beverage company PepsiCo. Inc. (PepsiCo) launched a campaign titled "Live for Now – Moments" in April 2017, playing off an existing "Live for Now" campaign the company created in 2012. This campaign included an ad – "'Jump In' Pepsi Moments" – and this ad's purpose was initially to reach millennials and "to project a global message of unity, peace, and understanding," per a PepsiCo statement. The advertisement featured a staged protest full of hired actors, including 21-year-old supermodel Kendall Jenner (Jenner). Many people criticized the ad for its insensitive approach and for what some viewers found to be improper execution of the desired message. During the ad, Jenner joins the protest and eventually approaches a cop, who is standing guard over the protestors, with a can of Pepsi. He takes a sip.
Critics immediately began condemning PepsiCo and the advertisement on social media: Entertainment Weekly called it "a tone-deaf attempt to co-opt a movement of political resistance" to increase sales. Many Twitter users expressed concern and disgust following the ad's release, claiming that it trivialized real-life protests where several people lost their lives fighting for an actual cause. Some users hated that Pepsi® made itself look like the cure for all social problems. One sarcastically remarked, "i get it now. if black lives matter protesters would've handed a pepsi to the cops they wouldnt of gotten tear gassed. it's so clear now." In addition, many angry tweets were directed towards the fact that Jenner was cast: Because the ad seemed to pertain to the Black Lives Matter (BLM) movement, the casting of Jenner seemed misguided. "The Kendall Jenner Pepsi fiasco is a perfect example of what happens when there's no black people in the room when decisions are being made," one user claimed.
This case study examines extensive public and media response to PepsiCo's "Moments" campaign, as well as PepsiCo's intentions and responses before the release of the ad and in the aftermath. The main issue is PepsiCo's decision-making throughout the duration of the crisis and the thoughtlessness during the political climate existing at the time of release. Despite negative feedback and nine months of the lowest perception levels the company had seen in over eight years, PepsiCo remains the same global food and beverage leader it has been for decades.
About PepsiCo
From the website: "PepsiCo is one of the world's leading food and beverage companies with over $63 billion in net revenue in 2017 and a global portfolio of diverse and beloved brands." PepsiCo was established in 1965 with the merger of the Pepsi-Cola Company and Frito-Lay, Inc. Caleb Bradham first developed a recipe for the cola drink in North Carolina in 1880. When the drink took off, Bradham established the Pepsi-Cola company in 1902. This company later became PepsiCo Inc. following the 1965 merger. PepsiCo owns several well-known global brands: Pepsi, Lay's, Tropicana, Gatorade, Quaker, etc. These products are sold in more than 200 countries and territories around the world. Pepsi® is one of the world's most iconic and globally recognized consumer brands. The Pepsi® portfolio includes Pepsi®, Diet Pepsi®, and Pepsi® MAX – each one generates more than $1 billion in annual retail sales. (1)
The PepsiCo® Mission
"As one of the largest food and beverage companies in the world, our mission is to provide consumers around the world with delicious, affordable, convenient and complementary foods and beverages from wholesome breakfasts to healthy and fun daytime snacks and beverages to evening treats. We are committed to investing in our people, our company and the communities where we operate to help position the company for long-term, sustainable growth." (1)
The PepsiCo® Vision
"At PepsiCo, we aim to deliver top-tier financial performance over the long term by integrating sustainability into our business strategy, leaving a positive imprint on society and the environment. We call this Performance with Purpose. It starts with what we make— a wide range of foods and beverages from the indulgent to the more nutritious; extends to how we make our products— conserving precious natural resources and fostering environmental responsibility in and beyond our operations; and considers those who make them— striving to support communities where we work and the careers of generations of talented PepsiCo employees." (1)
The "Live for Now – Moments" Press Release
Playing off an earlier campaign titled "Live for Now" in 2012, Pepsi® celebrated life's "Live for Now" moments over the course of 2017. This 2017 press release announced the release of the ad starring Jenner:
"Throughout 2017, Pepsi® is celebrating life's "Live for Now" moments. Moments when we decide to let go, choose to act, follow our passion and nothing holds us back. "Jump In," a short film that depicts these moments and stars Kendall Jenner, captures the spirit and actions of those people that jump into every moment. It features multiple lives, stories and emotional connections that show passion, joy, unbound and uninhibited moments. No matter the occasion, big or small, these are the moments that make us feel alive.

The "Jump In" Pepsi® Moments film takes a more progressive approach to truly reflect today's generation and what living for now looks like. Kendall is the latest in an impactful line-up of global icons to work with Pepsi® and she exemplifies owning "Live for Now" moments.

The commercial features music from a voice of today's generation, the artist behind "Lions"- Skip Marley (Island Records).

The creative, which will be seen globally across TV and digital, was produced by PepsiCo's in-house content creation arm, Creators League Studio. It showcases elements of the Pepsi® disruptive design program that combines icons with expressive typography to capture the moments that ignite action. Moments iconography will be across packaging, out of home and in-store for the full Pepsi® trademark of blue, black and silver offerings."
Contributor Statements
Attached to the press release are two statements: one from Kendall Jenner, the star of the video, and another from Skip Marley, whose song "Lions" plays throughout the duration of the ad. Jenner states:
"I am thrilled to join the legendary roster of icons who have represented their generations and worked with Pepsi®. To me, Pepsi® is more than just a beverage — it registers as a pop culture icon & a lifestyle that shares a voice with the generation of today. The spirit of Pepsi® — living in the 'now' moment — is one that I believe in. I make a conscious effort in my everyday life and travels to enjoy every experience of today."
Skip Marley agrees:
"Standing together and being unified in the moment is a powerful experience. This song 'Lions' that Pepsi® selected for the 'Moments' ad should remind our generation to look at the way you are living and find strength and calm in each moment." (2)
The Ad
Pepsi® clearly believed their in-house marketing team – Creators League Studio, a brand-new in-house content creation arm – had put together something beautiful and socially responsible; something that all people could rally around, believe in, agree with, and that would make everyone want to go out and buy a Pepsi®. PepsiCo's initial plan: to use the "Jump In" ad globally, via TV and digital. (3)
The spot opens with Jenner posing as a supermodel in a blond wig and silver dress. Meanwhile, diverse crowds of millennials flood the streets outside the studio with signs reading "love" and "join the conversation" and with fists raised high. A Pepsi®-sipping musician is the first to drop what he's doing and join in with the protest, a headscarf-clad photographer joins in next, and finally Jenner herself, after removing her wig and fancy clothes and even smearing her makeup. The ad culminates with Jenner boldly stepping forward from the protest and offering a police officer a Pepsi®, which he pops and sips, much to the excitement of the protestors.
"Live bolder, live louder, live for now," the ad concludes.
The Backlash
Backlash immediately followed the April 4, 2017 release of "Jump In." There were many things that made people uncomfortable after viewing the advertisement, and articles, tweets, and reviews began surfacing instantaneously.
Most tweets sarcastically and satirically focused on general dislike and uneasiness associated with the themes and cast, but some went as far as to compare real-life protest scenes to scenes depicted in the spot.
The story of Ieshia Evans in Baton Rouge is not a directed ad with a paid cast. Evans was one of the 102 protesters arrested in Baton Rouge in July 2016, along with the prominent activist DeRay Mckesson, who were detained on charges of obstructing the highway. The protest emerged in response to the police shootings in Minnesota and Louisiana. Jonathan Bachman, a New Orleans-based freelancer, took the above photograph included in Figure 6 and told the BBC that Evans broke away from protesters and stood in front of the officers. A quote from Bachman:
"I was on the side of the road photographing protesters arguing with police. I looked over my right shoulder and saw the woman step onto the road. She was making her stand. She said nothing and was not moving. It was clear that the police were going to have to detain her." (4)
He said Evans was arrested shortly after. The photo Bachman captured drew comparisons to other historic images, such those showing the Tiananmen Square protests in 1989. Many viewers of the Pepsi ad also compared Jenner's Pepsi offering to the famous "Tank Man" photo.
One main issue critics had with PepsiCo and the "Jump In" spot was the lack of market research so clearly depicted in the final video. A headline from Marketing Week three days after the initial release stated:
"Pepsi®'s ad failure shows the importance of diversity and market research: The backlash over the Kendall Jenner ad shows marketers need an outside perspective, whether from an ad agency or by conducting thorough market research and reaching out to consumers." Twitter users agreed. (3)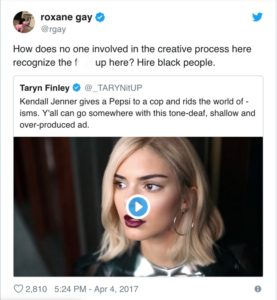 At the Cannes Lions Festival in 2017, PepsiCo president Brad Jakeman enthusiastically talked up the decision to form Creators League Studio, a brand-new in-house content creation arm.
He announced: "Instead of five pieces of content a year, a brand like Pepsi® needs about 5,000 pieces of content a year. Instead of taking six months to develop an ad, we have six hours or six days. And instead of it costing $2m, it needs to cost $20,000." According to Marketing Week, Jakeman explained that PepsiCo was fed up with the money, time and structure that goes into working with ad agencies. "There is no infrastructure to advertisers to be able to quickly produce that content. You have to patch it together. Certainly, the traditional agencies can't do it." (3)
Andy Nairn, the founder of independent U.K. creative agency Lucky General, spoke with Marketing Week about PepsiCo's predicament. "Look, I own an ad agency so I'm sure people will say I have a vested interest here, but what happened at Pepsi® clearly shows the dangers of not having an external perspective," he tells Marketing Week. Nairn believes Jakeman's comments at Cannes suggests that PepsiCo's in-house marketing team may have worked too quickly on the Jenner campaign and failed to properly vet it for controversy. (3) Nairn adds:
"It is basic common sense that if you are surrounded by people who live and breathe your brand when creating an ad, then you're much more prone to disaster than working with an ad agency, who will take a more balanced approach. Yes, an agency will take longer to make an ad, but a longer trial and error approach typically avoids controversy so it's worth it." (3)
Marketing Week, in a partnership with One Poll's consumer survey, conducted a poll of 754 marketing professionals. The survey revealed that nearly half (42%) of marketers believe that the brands they work for are failing to reflect a modern, racially-diverse humanity in their marketing and advertising. (3) Nairn goes on to say:
"Even if an in-house agency is filled with people of colour then they will still likely become so wedded to the brand, and see things through the lens of the brand, that they fail to spot tone or how the outside world perceives their brand. Diversity is a broader issue. We talk a lot about drinking the cool aid but Pepsi® is an example of an organization drinking too much of its own fizzy liquid." (3)
Kendall Jenner
PR News responded to the controversial ad two days after the initial release. The source expanded on the idea that PepsiCo chose the wrong spokesperson for their message and corporate social responsibility. Although it is obviously considered a coup to recruit a famous face to associate with your brand in most instances, it is extremely important that it is an appropriate, relevant person in relation to the core significance of the specific campaign. Although Jenner is a massive presence – one of the top 10 most-followed people on Instagram – she is not known for activism or speaking out on any social issues. In a different context or scenario, Jenner may have proved a fine choice of heroine, but in this particular campaign, according to PR News, she was the wrong choice. (5)
Twitter users agreed.
PepsiCo's Response
Adweek published an article – the same day Pepsi® published the ad – claiming that Pepsi®, in a statement, stood by the commercial. Pepsi® explained: "This is a global ad that reflects people from different walks of life coming together in a spirit of harmony, and we think that's an important message to convey." They felt it embodied their social corporate responsibility. As the aforementioned press release from Pepsi® states: "The 'Jump In' Pepsi® Moments film takes a more progressive approach to truly reflect today's generation and what living for now looks like." There was never mention of Black Lives Matter or other current movements from PepsiCo.
In another statement to Teen Vogue, Pepsi® is quoted:
"The creative showcases a moment of unity, and a point where multiple storylines converge in the final advert. It depicts various groups of people embracing a spontaneous moment, and showcasing Pepsi®'s brand rallying cry to 'Live for Now,' in an exploration of what that truly means to live life unbounded, unfiltered and uninhibited." (6)
The following day, PepsiCo finally released a short press release on their website that reads:
"Pepsi® was trying to project a global message of unity, peace and understanding. Clearly we missed the mark, and we apologize. We did not intend to make light of any serious issue. We are removing the content and halting any further rollout. We also apologize for putting Kendall Jenner in this position." (7)
The message was also posted on Pepsi®'s twitter page.
The ad was promptly removed from circulation and anywhere on the internet that it had been posted by the company. Per NBC News, the brand also responded to one particular tweet by Bernice King, the youngest daughter of Dr. Martin Luther King Jr. She posted an image of her father mid peaceful protest with the caption: "If only Daddy would have known about the power of #Pepsi." (8)
Pepsi® responded directly to King through the caption of their initial apology tweet, "We at Pepsi believe in the legacy of Dr. King & meant absolutely no disrespect to him & others who fight for justice." (8)
Kendall Jenner's Response
Jenner's unofficial response came over eight months later during the season 14 premiere of Keeping Up with the Kardashians, the reality television show featuring Jenner's family. Without mentioning Pepsi® by name, Jenner spoke out on the show: "I trusted everyone. I trusted the teams. But after I saw the reaction and I read what people had to say about it, I most definitely saw what went wrong. I was so stuck, and I really didn't know what to do, that I completely shut down." (9)
The reality-star-turned-model broke down in tears while referring to how the ad offended many viewers.
"I would never purposely hurt someone ever. And I would, obviously, if I knew this was gonna be the outcome, like, I would have never done something like this. But you don't know when you're in the moment. I just felt so f—ing stupid. The fact that I would offend other people or hurt other people was definitely not the intent and that's what […] got me the most, is that I would ever make anyone else upset." (9)
Jenner's older sister, Kim Kardashian West, spoke on her behalf in an interview with The Hollywood Reporter over the summer in 2017.
"We're not perfect, but you see these things in the media, like Kendall and her Pepsi® ad, where I see her at home crying. In the media she looks another way because she's not addressing it. I'm just like, 'This is wrong. You need to speak up'. She was like, 'I don't ever want to show that footage of me crying.' She was trying to not make excuses or be dramatic, but that was what she was going through at the time." (10)
Fellow model Ashley Graham offered her insight on the matter on the U.S. talk show Watch What Happens with Andy Cohen in June 2017. "I think my team probably would have nipped it in the bud before anything happened," Graham said. "I was very surprised that nobody said, 'Hey, this looks like a bad idea right here.'" (10)
The Aftermath
 One year following the controversial release, PepsiCo and Pepsi®'s brand perception among millennials and younger generations has made an unusual recovery. However, according to YouGov BrandIndex, this recovery came after nine months of the lowest perception levels Pepsi has seen in over eight years. In addition, younger consumer's consideration of purchasing a Pepsi remains currently at its lowest level in three years. (11)
These consumer perception scores were measured with YouGov BrandIndex's Buzz Score, which asks respondents: "If you've heard anything about the brand in the last two weeks, through advertising, news, or word of mouth, was it positive or negative?" (11)
Although the perception recovery is something not frequently seen after a PR crisis of this magnitude, long-time Purchase Consideration with millennials – a key metric of potential sales revenue – stays at an all-time low. Since 2014, that metric fell from 33% of millennials considering buying a Pepsi the next time they purchased a beverage to the current state of 23%. (11)
This plunge is clearly directly related to the Jenner ad, which brought Pepsi®'s Purchase Consideration score with millennials down from 27% to 24% from early April to mid-July 2017. During football season in November 2017, the number climbed back to 29% after a limited-edition cinnamon-flavored spicy soda was released. After November, however, the numbers trailed back down to 23%, the lowest they've read since April 2015. (11)

The Future
 Although PepsiCo made unimaginable strides post-controversy, on August 6th, 2018, after 12 years of chief executive, Indra K. Nooyi announced she was stepping down from her position and handing the reins elsewhere. (12) As PepsiCo transitions under new leadership, it is hard to know how the brand will fare in the competitive future of the food and beverage industry.
-Written by Lily Tillman
References